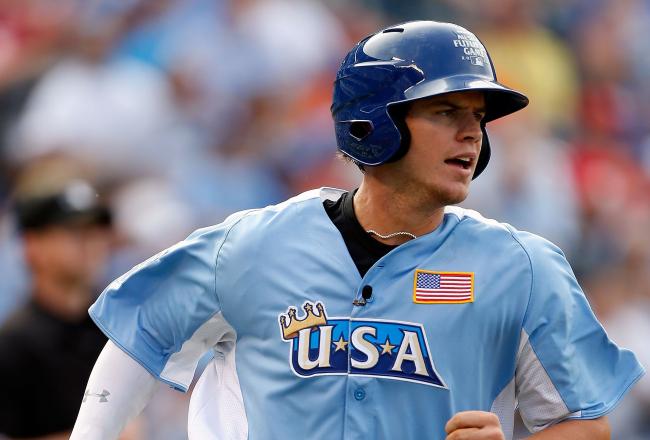 By Dedrick Hendrix
Founder/Lead Baseball Writer
On Jan. 29, MLB.com released their official Top 100 Prospect Rankings. By no surprise, Texas Rangers shortstop
Jurickson Profar
was their top-ranked prospect.
There are a ton of new prospects to keep an eye on. There are some names we have heard already and some we have not. Now, we can all agree to the fact that coming up with a prospect list is difficult, so bare with me here and feel free to comment any names I leave out.
I have put together my own Top 50 prospects coming into the season, and although it may be somewhat similar to
Jonathan Mayo's
, I have some people way higher on my board than his and some that are way lower in my ranks of prospects.
I would like to congratulate
Mike Trout
and
Bryce Harper
for translating their talents to superstars and finally excluding themselves from the word "prospect", because they are no longer that.
With that being said, here are my top 50 prospects:
1. Wil Myers, OF, Tampa Bay Rays
2. Jurickson Profar, SS, Texas Rangers
3. Oscar Tavares, OF, St. Louis Cardinals
4. Dylan Bundy, RHP, Baltimore Orioles
5. Tajuan Walker, RHP, Seattle Mariners
6. Travis d'Arnaud, C, New York Mets
7. Zack Wheeler, RHP, New York Mets
8. Tyler Skaggs, LHP, Arizona Diamondbacks
9. Gerrit Cole, RHP, Pittsburgh Pirates
10. Miguel Sano, 3B, Minnesota Twins
11. Jose Fernandez, RHP, Miami Marlins
12. Jameson Taillon, RHP, Pittsburgh Pirates
13. Billy Hamilton, SS, Cincinnati Reds
14. Trevor Bauer, RHP, Cleveland Indians
15. Danny Hultzen, LHP, Seattle Mariners
16. Mike Zunino, C, Seattle Mariners
17. Shelby Miller, RHP, St.Louis Cardinals
18. Christian Yelich, OF. Miami Marlins
19. Javier Baez, SS, Chicago Cubs
20. Byron Buxton, OF Minnesota Twins
21. Francisco Lindor, SS, Cleveland Indians
22. Anthony Rendon, 3B, Washington Nationals
23. Nick Castellanos, OF, Detroit Tigers
24. Julio Teheran, RHP, Atanta Braves
25. Kyle Zimmer, RHP, Kansas City Royals
26. Mike Olt, 3B, Texas Rangers
27. Carlos Correa, SS, Houston Astros
28. Jonathan Singleton, 1B, Houston Astros
29. Archie Bradley, RHP, Arizona Diamondbacks
30. Aaron Sanchez, RHP, Toronto Blue Jays
31. Kevin Gausman, RHP, Baltimore Orioles
32. Bubba Starling, OF, Kansas City Royals
33. Xander Bogaerts, SS, Boston Red Sox
34. Alex Meyer, RHP, Minnesota Twins
35. Albert Almora, OF, Chicago Cubs
36. Jackie Bradley, OF, Boston Red Sox
37. Gary Sanchez, C, New York Yankees
38. Addison Russell, SS, Oakland Athletics
39. Jorge Soler, OF, Chicago Cubs
40. Noah Syndergaard, RHP, New York Mets
41. Carlos Martinez, St.Louis Cardinals
42. Jake Odorizzi, RHP, Tampa Bay Rays
43. Trevor Rosenthal, RHP, St.Louis Cardinals
44. Didi Gregorious, SS, Arizona Diamondbacks
45. Nick Franklin, SS, Seattle Mariners
46. Kyle Gibson, RHP, Minnesota Twins
47. Max Fried, LHP, San Diego Padres
48. George Springer, OF, Houston Astros
49. David Dahl, OF, Colorado Rockies
50. Matt Barnes, RHP, Boston Red Sox
Generally, everyone's top 10 prospects should look somewhat the same. Not in necessarily the same order, but it should consist some of the same players. Out of MLB.com's top 10 prospects, I am most looking forward to seeing Myers and how he translates to new surroundings in Tampa.
I really think that Myers could end up being something very special in his own right and this could be the season to cap it off with an American League Rookie of The Year Award. It is still shocking to me why the Royals would trade Myers who projects to be a solid outfielder for many years to come, for a pitcher who shows spurts of inconsistency.
It will be interesting to see how that trade ended up panning out for the 2013 season. I have a few prospects other than the top 10 that MLB.com chose that I would like to request everyone to keep an eye on on the course of this season.
With that being said, other than the top 10, here are my top prospects to keep an eye on.
Billy Hamilton, OF, Cincinnati Reds
Hamilton seems to have that killer instinct in him that many of the other prospects don't have. He has the potential to change the game at any time.
He is by far the fastest man in baseball, hands down and that is exactly why he broke the record for most stolen bases in a season last year with 155.
Last season, in 132 games total, Hamilton maintained a .311 average, but only hit two home runs. He does not project to be a huge power hitter, but he is an easy choice as any team's lead-off hitter. I predict Hamilton to get an abundance of playing time this season and should make a run at the National League Rookie of The Year Award.
When he does indeed makes it to the big leagues, I feel that Hamilton will waste no time and make an immediate impact on the baseball world and catch our eyes early into the season.
To me, Hamilton will eventually be an All-Star caliber player. He will be a guy that will hit for both average and power. Not to mention he is an above average fielder as well and obviously his speed makes him tough to get a blooper on in the outfield.
The only thing that Hamilton appears to need to work on is his pitch recognition. He seems to be lost when he sees some off-speed pitches, which against top pitchers will be difficult for him to adjust.
Hamilton is also not a very patient hitter either, based on the fact that last season he struck out 113 times all together last season, which is a lot for someone who many project to be the Reds future lead-off hitter.
He does seem to have some areas to improve in, but I am excited to see if or how he projects and if he addressed those flaws this past off-season.
Trevor Bauer, RHP, Cleveland Indians
Beginning next season in a new place, Bauer looks to continue to prove himself as a top prospect.
After listening to a podcast called
Baseball Today
,
Keith Law
stated that the Diamondbacks front office didn't like Bauer's make up.
They feel in the future, he would be a guy who gets frustrated and loses his self-control. What the franchise failed to realize is that Bauer is 21-years-old and has some growing up to do just like every other prospect.
In my opinion, the Diamondbacks made a huge mistake on trading Bauer. If you are looking to build a team for the future that will contend, you will want a guy like Bauer on your roster.
Bauer is a guy who can give you quality starts every time he steps foot on the mound. Last season Bauer went 12-2 maintaining a 2.42 E.R.A and striking out 157 batters. The only knock on Bauer that many people proclaim is that he is a typical fastball/curve ball pitcher.
Bauer pitches both a two-seam and four-seam fastball that are both plus pitchers for him. His four-seam sits around the 95-97 mph range and his two-seam sits around the 91-93 range. He also has a nice solid change up that sits around 80-84 mph.
In my mind, Bauer is easily compared to current Giants flamethrower
Tim Lincecum
, because of their very similar pitching techniques. I expect Bauer to be at least the No. 4 starter behind Myers, Jimenez and Masterson. It is very possible that he end up above Myers in the starting rotation.
The Indians have a nice little nucleus being built in Cleveland and are looking towards to future on improving their team and getting back to the playoffs. Other than the Tigers, the AL Central is pretty much wide open and anyone can contend, so Cleveland surely has a chance especially with a player with the talent of Bauer.
Mike Zunino, C, Seattle Mariners
Zunino may be the catcher for the Mariners at some point in time this season. He projects to be their guy behind the plate for the future, but it may be sooner than people think.
Zunino shows great poise and patience at the plate by waiting for his pitch to hit and driving it. He hit .360 last season in the minors, accumulated 58 hits, and hit 13 home runs and 43 RBI's in only 44 games.
I am a firm believer in this guy being a future .320, 20-plus home run and 100-plus RBI hitter. Despite Zunino's size at 6-2 and 220 pounds, he moves tremendously well behind the plate, and unless he gets injured, he will remain a catcher for his entire career.
Behind the plate, Zunino doesn't have the strongest arm that you can ask for from your catcher, but he will throw guys out bank on that! The longest I think us baseball fans with have to wait to see this well-polished prospect is mid-April or early-June. It would not shock me at all if he is their opening day starter behind the plate, although it would be shockingly early in my eyes.